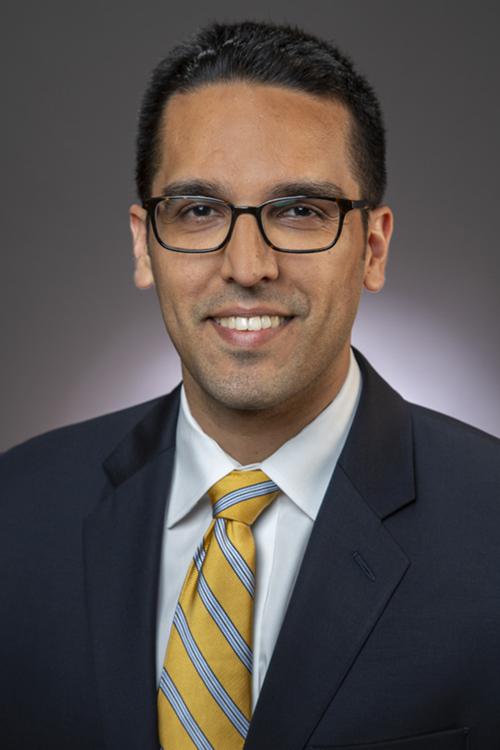 Dr. Shan Sharif – NGPG Orthopedic Surgery and Sports Medicine
Physician of the Month
"Dr. Sharif really cares for all of his patients. He calls them when they get home after surgery to check on them. He spends a great amount of time with them in the room to make sure they understand the treatment plan. He has even left the hospital after surgery and came back to the office just to see a patient that could not make it on a day that he was in clinic. All his patients love him (see note below), not to mention, he is a super awesome physician to work for in the office too. "
"We first met Dr. Sharif when my husband had a sceptic knee joint and emergency surgery. I very much appreciate everything Dr. Sharif did for my husband. His knowledge, quick responses to our questions and sincere caring and kindness made everything much better. When calling us after hours, he spent 45 minutes (or more) discussing all the details and answering all our questions. I believe my husband is better due to Dr. Sharif's dedication, hard work, knowledge and wonderful compassion of care for his patients. Thank you, Dr. Sharif, we are better because of you!"
Ashley Deringer, ANP-BC – NGPG Palliative & Supportive Care
Advanced Practice Provider of the Month
Ashley is an integral part of the Palliative & Supportive Care Team with NGPG. She also serves as the Palliative liaison for our ECMO team and is a valued member of the NGHS Ethics Committee. She is extremely hard working and will frequently go above and beyond to support her patients and their families through difficult times. Her work with the ECMO team over the past couple years has earned her frequent praise for both her breadth of knowledge and her unending compassion for these extremely sick patients. In addition to all the support she provides to patients and families, she is also known to be a great resource or even a listening ear to our staff. There are many things we can say about Ashley and her dedication to our system and her big heart, but most importantly, we just want to say thank you to her for all that she is and does for those around her!
Becky Briscoe – Administrative Assistant for Transformation & Clinical Quality
Employee of the Month
Becky's passion for excellence has helped me dig deep to find my own potential. She demonstrates why we work as a team and not just as individuals, she shows the importance of being a responsible steward and she performs well under pressure. Becky is a vital resource for our organization and the backbone of our team. She always provides quality service. She carries herself as a true team player (even if it goes unnoticed) and will go the extra mile for anyone. She has personally helped me decipher the difference of an individual with skills to acknowledging everyone on my team's gifts. I am proud to call Becky my teammate.