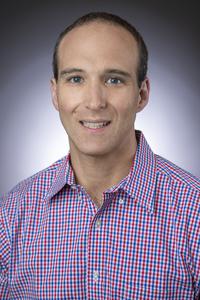 A return to the Athens area is what Ari Levine, MD, always had his eyes set on — even if that route took him through Ohio, Arkansas and Afghanistan.
"Growing up in Atlanta and then living in Athens while in school, I fell in love with this part of north Georgia," Dr. Levine said. "I always knew I wanted to come back here, so I'm excited at the opportunity to care for this community."
After the family medicine practice inside Northeast Georgia Medical Center in Barrow closed in early 2022, NGPG began searching for the perfect fit to bring care at that location back to the community. The group found that in Dr. Levine, who will be an asset to the community he already loves and knows so well.
Dr. Levine completed his medical residency at ProMedica Toledo Hospital in Ohio after graduating from the Medical College of Georgia at its Medical Partnership campus in Athens. He then entered active duty with the U.S. Air Force, stationed in Arkansas at Little Rock Air Force Base until he was deployed to the Bagram Air Base in Afghanistan in 2019, where he served as a deployed Air Force physician. After returning to Little Rock from his nine-month deployment, Dr. Levine began working in the family medicine clinic, as well as the operational medicine clinic — a clinic reserved for active-duty Airmen — at the Air Force base.
"I learned so much working on an Air Force Base in the states and while I was overseas," Dr. Levine said. "The experience, leadership and challenges I faced over the last four years is something I couldn't have gained anywhere else and will surely help me here at NGPG and beyond."
Outside of that all-important work, Dr. Levine enjoys spending time with his wife, Forrest, and their son, Ezra, as they go on walks and hikes in parks. Dr. Levine also enjoys woodworking, lifting weights, reading and cooking. While in college, he wrestled and played rugby.
"In medicine, and life in general, I believe people are capable of doing almost anything if they set their mind to it," Dr. Levine said. "So, I try to give my patients the knowledge and skills to take ownership of their health and help them make progress toward their goals – whatever they may be."
NGPG's physicians and advanced practice providers diagnose and treat multiple medical problems for patients of all ages, ranging from sore throat to heart disease and everything in between. NGPG is honored to care for families when they're well and when they're not well. NGPG Winder is open Monday – Friday, 8 a.m. to 4:30 p.m. and is located at 316 North Broad Street, Suite 250. Call 770-867-4146 to schedule an appointment with Dr. Levine, or visit ngpg.org/levine to learn more. 
NGPG is an affiliate of Northeast Georgia Health System. 
---
About Northeast Georgia Physicians Group
Northeast Georgia Physicians Group (NGPG) brings together over 650 talented physicians, physician assistants, nurse practitioners, midwives and other clinical staff at more than 95 locations across North Georgia. As the state's sixth-largest physician group, we always have a practice nearby to offer you expert care in more than 40 specialties. See the full list of specialties and locations – and meet our providers – at www.ngpg.org.
NGPG is affiliated with Northeast Georgia Health System (NGHS), a non-profit which serves more than 1 million people in 19 counties across the region. As part of NGHS, patients of NGPG have a direct connection to Northeast Georgia Medical Center's four hospitals in Gainesville, Braselton, Winder and Dahlonega. Learn more at www.nghs.com.